Stone Production Plant, also know as Stone Crushing Plant, sand and gravel crushing plant, stone production line, it's used to crush various kinds of materials from big size into small size, the raw materials can be granite, coal gangue, pebbles, bauxite, dolomite, slag and the mines such as gold ore, gold ore, zinc ore, cobalt ore, and so on. and it can be used for chemical and cement production plant, for example, it can be used for cement clinker and limestone crushing in the cement manufacturing plant, and in the chemical production project, it's used to crush the raw materials before the grinding process.

A stone production plant, which can refer to both sand and gravel production plant, it can be called a sand making plant when it's mainly used for sand production or it can be called aggregate production plant when it's mainly used for gravel. a complete Stone Crusher plant usually need the following componets: Vibrating Feeder , primary stone crusher, secondary stone crusher, vibrating screen, belt Conveyor and panel control. and the coarse Jaw Crusher mainly serves as primary stone crusher, the Impact Crusher and cone crusher used for secondary stone crusher, after crushing process, the vibrating screen is to separate the crushed materials into the required sizes and the rejected sizes will get back to the secondary stone crusher for re-crushing. the belt conveyors transport the materials among the machines and finally transport the finished product to the designed place.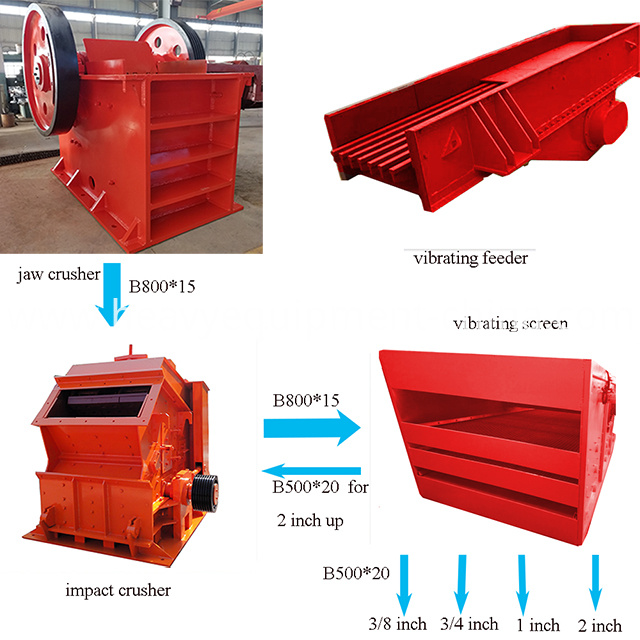 1.Vibrating Feeder
Vibrating Feeder can be massive, granular materials from the bunker is continuous and uniform feeding expected by the device.In
sand production line to avoid continuous evenly feed crusher crusher blockage by mouth.
2.Jaw Crusher
Jaw crusher common jaw broken, also known as the tiger mouth.Consists of two piece of jaw, moving jaw and static jaw crushing
cavity, the simulation of the animals two jaw crusher movement and complete material crushing operations.Widely used in mining
metallurgy, building material, highway, railway, water conservancy and chemical industry, etc all kinds of ores and large materials
in pieces.Being broken material maximum compressive strength of 320 mpa.
3.Impact Crusher
Counterattack crusher is also called back break, mainly used in metallurgy, chemical industry, building materials, water and
electricity and other materials processing, often need to move operations especially for highway, railway, water and electricity
engineering, such as liquidity stone work, according to the type of processing raw material, the requirements of different size and
finished product material using a variety of configuration forms
4.Vibrating Screen
Vibrating screen is to use the vibrator excitation generated by the reciprocating screw type vibration and work.Stator rotating
hammer on that plane whirl vibration sieve surface, while the rotating hammer make cone rotary vibration sieve surface, the effect
of the combined complex type rotary vibration sieve surface.
Some Solutions of Stone Crusher Plant for different crushing capacity for reference.
Maximum feed
(mm)

Capacity
(t/h)

Specification of main equipment

Feeding equipment

Coarse Crushing Equipment

Fine crushing equipment

340

30

GZD2511(3kw)

PE400×600(30kw)

PF1007(45kw)

3YZ1236(11kw)

340

50

GZD3117(10kw)

PE400×600(30kw)

PF1007(45kw)

3YK1545(22kw)

420

80

GZD3617(10kw)

PE500×750(55kw)

PF1010(75kw)

3YK1548(22kw)

480

100

GZD4321(13kw)

PE600×900(75kw)

PF1210(130kw)

3YZ1548(22kw)

560

150

GZD4321(13kw)

PE750×1060(90kw)

PF1210(130kw)

3YZ1845(22kw)

630

200

GZD4321(13kw)

PE900×1060(110kw)

PFB1212(140kw)

3YZ2050(30kw)

630

250

GZD5027(17kw)

PE900×1060(110kw)

PFB1214(180kw)

3YZ2050(30kw)

630

300

GZD5027(17kw)

PE900×1200(110kw)

PFB1214(180kw)

3YZ2160(30kw)

700

350

GZD5027(17kw)

PE1000×1200(132kw)

PFB1315(250kw)

3YZ2160(30kw)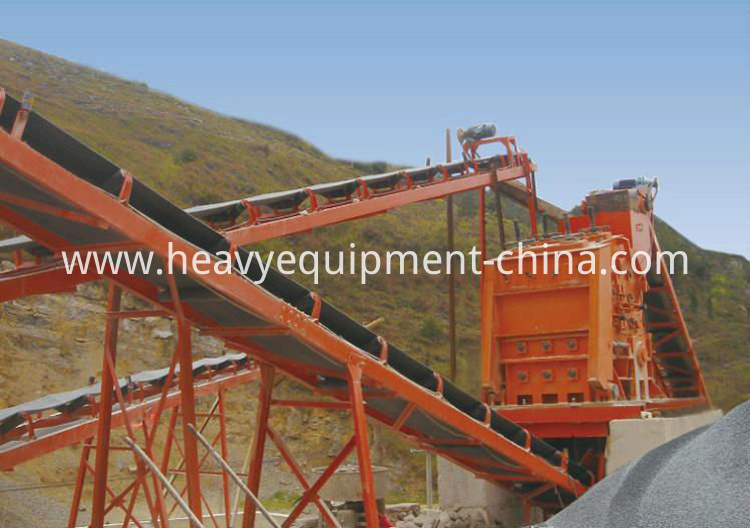 Looking for ideal Stone Production Plant Manufacturer & supplier ? We have a wide selection at great prices to help you get creative. All the Stone Crushing Plant Price are quality guaranteed. We are China Origin Factory of Rock Production Plant. If you have any question, please feel free to contact us.
Product Categories : Crushing And Screening Machine > Crushing Machine