The device has the following characteristics: the giant inspiratory volume, low power consumption. Each slot has three features, that`s inhale, absorb the pulp and flotation. It`s automatic flotation circuit, there is no need of any auxiliary equipment. The configuration is horizontal, which can ease the changes of process. Slurry circulation is reasonable, it can reduce the coarse sand deposits to the greatest degree. With pulp surface-controlled device, it`s convenient to adjust. Flotation Processing Plant For Mining is a process for separating minerals from gangue by taking advantage of differences in their hydrophobicity. Hydrophobicity differences between valuable minerals and waste gangue are increased through the use of surfactants and wetting agents. The selective separation of the minerals makes processing complex (that is, mixed) ores economically feasible. The Flotation Process is used for the separation of a large range of sulfides, carbonates and oxides prior to further refinement. Phosphates and coal are also processed upgraded by flotation technology.
Flotation Processing Plant For Mining is a Mineral Separator that mainly used for the flotation Beneficiation Plant, which can be used for various kinds of ores, such as for copper ore benefication plant, lead Ore Beneficiation Plant, graphite ore beneficiation plant, cobalt ore beneficiation plant, nickel ore beneficiation plant, lithium ore beneficiation plant, gold ore beneficiation plant, and so on. the slurry is fed to the Competitive Price XJK Series Flotation Machine after mixing with some additives, and with the help of air, there will be a lot of bubbles, and the mineral will adhear to the bubbles, which will floate to the top of the slurry, then adjust the height of the flashboard, then the scraper on the Flotation Processing Plant For Mining will take out the useful minerals, and there are some amount which is not processed thoroughly will flow to the next tanks, until it's effectively separated, then it will becomes the tailings and are discharged from the bottom of the air flotation machine.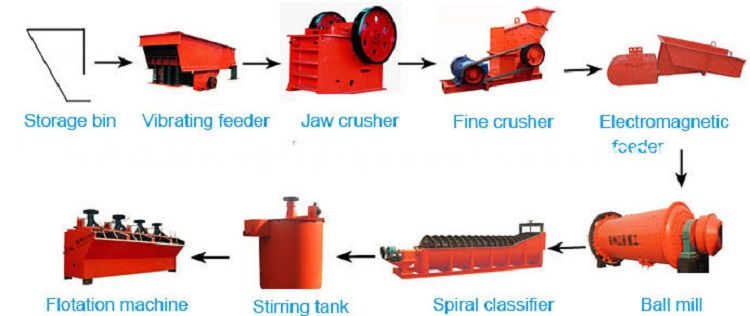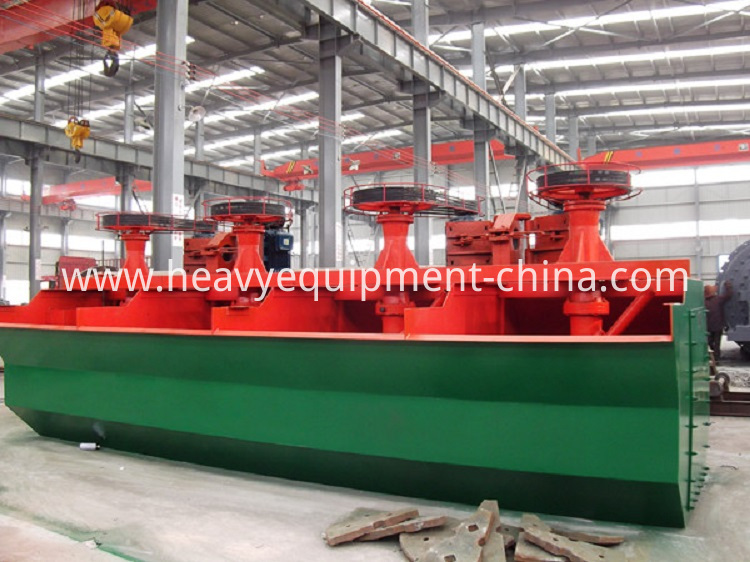 Working Principle of

Flotation Processing Plant For Mining:
The motor drives belt pulleys to make the impeller moving by triangle belt. One is to mix the air and pulp sufficient, the other side is to agitate the pulp with chemical reagents as well as thinning the bubbles. The ore particles stick on the bubbles by the chemical reagents and float to the surface of the pulp and then become the forth and scraped by the scrapper.
Structure and Material of

Flotation Processing Plant For Mining

:
When the Flotation Processing Plant For Mining is working, the inlet ore pipe feed the pulp to the center of the cover and then swi out the pulp by the revolving impeller of the centrifugal force. Meanwhile, there is a negative pressure zone in the space of the impeller and cover so air can be inhaled from the air inlet pipe automatically. The strong agitation of the impeller mixes the pulp and air sufficient and then be made to many small bubbles. The bubbles go up to the forth and be scrapped out to be forth product.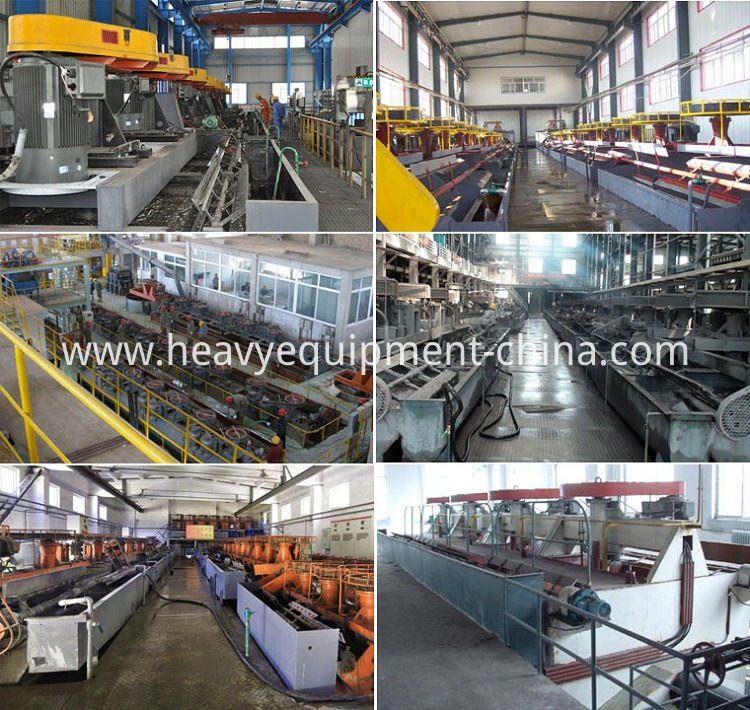 Main features of Flotation Processing Plant For Mining
1. The flotation machine consumes little amounts of energy while at the same time maintaining a high air-absorption rate capacity.
2. The machine is made up of individual cells which independently form a flotation separation loop without the need for any auxiliary equipment. Each of the cells is located horizontally to facilitate the easy change of flow.
3. They all are designed to carry out the following functions: Air absorption, slurry absorption and flotation separation.
4. The mineral slurry circulates at a reasonable rate and the disposition of coarse sand is largely avoided.
5. A self-control device is located on the surface of the mineral slurry facilitating easy adjustment of the level.
6. There are two types of vanes found in the impeller: Backward-inclined upper vanes and lower vanes, for upper and lower circulation of mineral slurry.
Main Technical Parameters of Flotation Processing Plant For Mining


Category


Specification


Effective

volume

(m3)


Processing capacity
(m3/min)


Main shaft

loam board

Dimensions

(L×W×H)(mm)


weight(kg) (one cell)

(kw)
Power

(r/min)
Rotate speed

(r/min)
Rotate speed

(kw)
Power

XJK type flotation machine

XJK-0.35

0.35

0.18-0.4

1.5

483

25

1.1

700×700×700

460

XJK-0.62

0.62

0.3-0.9

3.0

400

25

1.1

900×820×850

980

XJK-1.1

1.1

0.6-1.6

5.5

330

25

1.1

1100×1100×1000

1390

XJK-2.8

2.8

1.5-3.5

11

280

25

1.1

1750×1600×1100

2430

XJK-5.8

5.8

5-7

22

240

25

1.5

2200×2200×1200

3533

SF type
flotation machine

SF-0.37

0.37

0.2-0.4

1.5

386

25

1.1

700×700×750

468

SF-0.7

0.7

0.3-0.9

3

400

25

1.1

900×820×950

990

SF-1.2

1.2

0.6-1.6

5.5

330

25

1.1

1100×1100×1100

1837

SF-2.8

2.8

1.5-3.5

11

268

25

1.1

1750×1600×1150

2538

SF-4

4

2-4

15

220

25

1.5

1850×2050×1200

2838

SF-8

8

4-8

30

191

25

1.5

2200×2900×1400

4129

SF-10

10

5-10

30

191

25

1.5

2850×3900×1700

4486

SF-20

20

5-20

30×2

191

25

1.5

2850×3800×2000

9828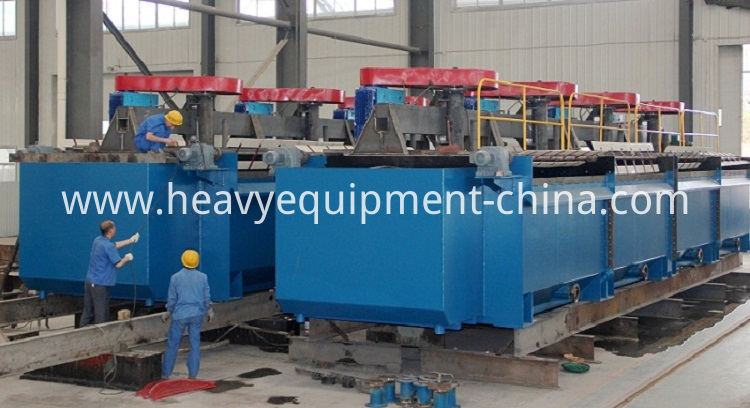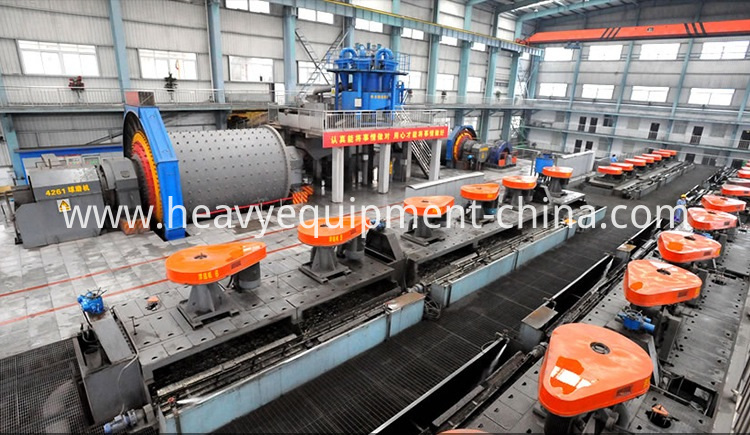 Looking for ideal Flotation Processing Plant Manufacturer & supplier ? We have a wide selection at great prices to help you get creative. All the Flotation For Mining are quality guaranteed. We are China Origin Factory of Flotation Processing For Mining. If you have any question, please feel free to contact us.
Product Categories : Complete Beneficiation Plant > Flotation Processing Plant