AAC block is made of fly ash, lime, cement and aluminum powder, and with the procedures of crushing, measuring, mixing, pouring, autoclaving and cutting. AAC block has advantages of extremely light weight, excellent thermal insulation, heat insulation, energy conservation, waste recycling, convenience etc. As a new building material, AAC block is emphatically promoted by the world.
Our factory can provide the complete plant for Aac Block Making Plant, the main light weight block making machine is crusher, Ball Mill, mixing sytem, mound, autoclaves,cranes, and so on. the raw mterails for aac block manufacturing can be sand or fly ash. after reasonable batching, the materials are mixed thouroughly for slurry preparation, then the slurry are injected into mound, then curing for about two hours, the cake with certain hardness are cut into required sizes, finally the block is subject to high pressure inside the autoclave for 7.5 hours, then we can get the finished aac block.
General introduction about the AAC Brick Manufacturing Plant/AAC Brick Making Plant/AAC Brick Production Plant
The production process of aac block with sand and fly ash share almost the same process, the main difference lies that the sand should be ground before
slurry making, while it is not necessary to grind the fly ash. The general process mainly includes :
raw material preparation-- with fly ash as the main material, lime needs to be ground into powder which will be converted into slurry in the next stage, usually it is crushed by a Jaw Crusher, in order to prevent the environment from polluted, the dust collectors are adopted to collect the dusts during the production

Batching ---in order to guarrantee the good characterics of the aac block, Each element is calculated before mixing.

Mixing and pouring--After batching, each material will be fed to the mixer for slurry making, and the moulds are under the pouring machine, which will pour the slurry to the moulds when it's thoroughly mixed.

Pre-curing---The mould with slurry will be stored in the curing room for about two hours, with 40-45 celsius degree.

Cutting-Then the green cake will be dragged out and the frame of the mould will be removed by a crane, then it will be sent to the cutting machine

The cutting machine will cut the green cake into the sizes required, there are vertical cutting and horizontal cutting. and the waste is returned to the mixing machine for recycling, below are some commonly used aac block size, Length (mm): 600
Width (mm): 75, 100, 125, 150, 175, 200, 250
Height (mm): 200, 240, 250, 300
Remarks: The size can be customized

After cutting, the green blocks are organized into groups, which will be loaded into the autoclave when it's enough for one autoclave.

Steaming--The green blocks are steamed for 8-10 hours with boiler as the heat source. and the pressure inside the autoclave needs to be kept at 1.2MPa, after steaming, we can get the finished aac block or aac brick, after packing, it can be sent to the warehouse or markets.

AAC Block Making Plant

Equipment For AAC Block making machine or Light weight block machine, simply called as Aac Manufacturing Plant, it is a complex processing system with sand or fly ash as the main raw material, on one hand, fly ash is a common industrial waste, so fly ash AAC Block Manufacturing Plant can recycle the waste, which can save storage space, on the other hand, it's not necessary to grind the fly ash, so aac block making plant with fly ash is more cost effective than with sand.

Features of

Equipment For AAC Brick Manufacturing Plant/AAC Brick Making Plant/AAC Brick Production Plant

1. Lightweight: Porosity achieve 70% to 85%, volume density is generally 500-900kg/m3, as 1/5 of general concrete brick, the 1/4of clay brick, the 1/3 of hollow brick, and similar with wood can float in water. It can reduce building weight, reduction in the cost of integrated building, moreover, prolong building's life.

2. Fireproof: Most of the major raw materials is inorganic materials, so it has good fire resistance, and do not emit harmful gases when meet fire. Fire 650 degrees, as a refractory material, the thick up of 100 mm walls can reach to 4 hours fire resistance, 300mm thick up wall can reach to 9 hours fire resistance.

3. Sound insulation: Due to a unique porous structure, so it has a sound absorption capacity. The sound absorption capacity can reach of 100mm thick wall up to 41 db.

4. Insulation: As the material inside has a large numbers of the pores and porous, which has a good thermal insulation properties. The Thermal conductivity is 0.11-0.16W/MK, as 1/4-1/5 of brick. Typically, the insulation effect of 20cm thick aerated concrete wall is equivalent to 49cm thick solid brick walls ordinary.

5. Permeability: Result of material by the composition of many independent small pores, the moisture absorption is slow, in the volume of absorbent is 5 times of clay saturation do. When used in the bathroom, the wall can be treated to interface directly paste tiles.

6. Anti-seismic: The same building structure, improve the two seismic than the brick level.

7. Green: Manufacturing, transportation, all use the process of non-pollution, to protect arable land, saving energy, is one kind of a green building material.




Below is the proportion of each element about AAC Brick Manufacturing Plant/AAC Brick Making Plant/AAC Brick Production Plant

| | | |
| --- | --- | --- |
| Name | Unit | Cement Lime Sand |
| Sand | % | 55-65 |
| Cement | % | 10-20 |
| Lime | % | 20-30 |
| Gypsum | % | 2-3 |
| Aluminum powder paste(600kg/m3) | 1/10000 | 8 |
| Water & material rate | | 0.65-0.75 |
| Casting system | OC | 35-38 |
| Aluminum mixing time | S | 30-40 |
Proportion of each element about Equipment For AAC Brick Manufacturing Plant/AAC Brick Making Plant/AAC Brick Production Plant

| | | |
| --- | --- | --- |
| name | unit | Cement lime fly ash |
| flash | % | 65-70 |
| cement | % | 6-15 |
| lime | % | 18-25 |
| gypsum | % | 3-5 |
| Aluminum powder paste(600kg/m3) | 1/10000 | 8 |
| Water & material rate | | 0.60-0.65 |
| Casting system | OC | 36-40 |
| Aluminum mixing time | S | 30-40 |

Main Specification of cutting machine that used as AAC Block making machine/Lightweight Block Machine/light weight block making machine


| | | | | | |
| --- | --- | --- | --- | --- | --- |
| Moel No. m | Capacity m3/year | Cutting Step-in mm | Cutting Precision mm | Production Cycle Time min | Power kW |
| 4.2X1.2X0.6 | less than 200,000 | 5 (2.5) / 10 | ±3±1±1 | ≤6 | 25 |
| 4.8X1.2X0.6 | 200,000~250,000 | 5 (2.5) / 10 | ±3±1±1 | ≤6 | 25 |
| 6.0X1.2X0.6 | 250,000~300,000 | 5 (2.5) / 10 | ±3±1±1 | ≤6 | 27.5 |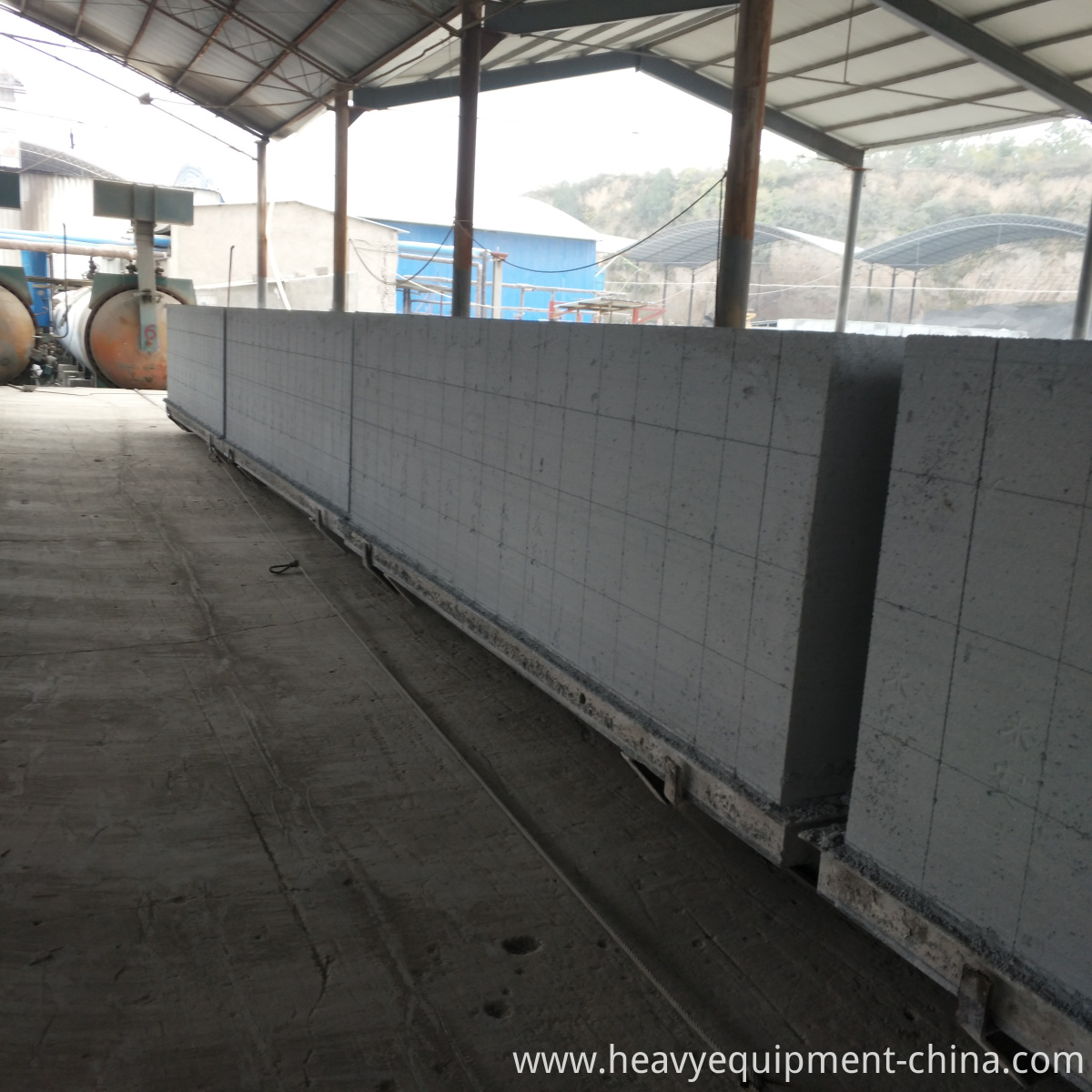 Looking for ideal AAC Brick Manufacturing Plant Manufacturer & supplier ? We have a wide selection at great prices to help you get creative. All the AAC Brick Making Plant are quality guaranteed. We are China Origin Factory of AAC Brick Production Plant. If you have any question, please feel free to contact us.
Product Categories : AAC Block Manufacturing Plant > Fly Ash Aac Production Plant