Jig Machine is a commonly used gravity Mineral Separator among the mining equipment, usually it is used for rough separation for open-pit mines, there are several different types of jig machines, according to the cruvers, there are sine jig machine and sawtooth jig machine, there are rectangle jig machine and trapezium jig machine according to the shape of the chammber, it has different names according to the ore it adopts. such as it is called gold jig machine or gold jigger when it is used for gold ore processing, so it is called tin jig machine when it is used for tin ore. the jig machine can also be used for coal washing plant, chrome ore washing plant, tinanium ore processing plant, tantalum-niobium ore processing plant, manganese ore, barite ore, zirconium ore, and gemstone ore.
Working principle of gold jig machine /tin jig machine
Jig machine need water to work, and it loosens materials in vertical alternative water-flows, and it forms different layers of materials of different densities and discharges both layers from up and down discharging ports separately. The basic composition of jigger is jigging chambers, also called jigging boxes, and there are screens in each chamber.
Water and raw ore will be fed from one end of the jigger screen, the ore granules will move in the vertical alternative water-flows. Layers will be formed because of density difference of materials. The minerals with small density will be in the up layer and will flow together with the up pulp flow while material with bigger density will be in the down layer and will discharged from the down discharging port as jigging concentrate.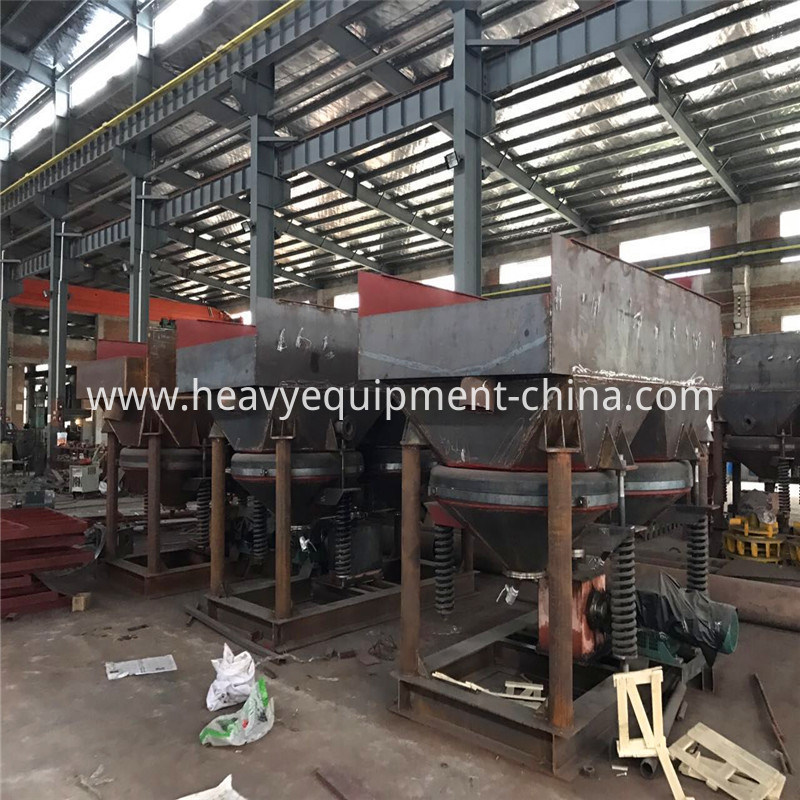 Technical parameter of the gold jig machine /tin jig machine:
model

Jig chamber

Feed size mm

water consumption
m3/ton (ore)

water recharge pressure Mpa

capacity
(for raw ore)
t/h

power
kw

dimension
mm

weight
kg

mark

QTY

area

m2

stroke
mm


stroke frequency
/min

JT0.57-1

1

0.57

(M12)8.5-12
(M17)10-17
(M21)12-21

80-180

<6

1-2

≥0.05

1.5-3

1.5

1550×780×1530

610

JT1-1

1

1.04

<10

2-3

2.5-5

2.2

2270×1110×1890

900

JT2-2

2

2.28

<10

2-4

5-10

3

3225×1550×2050

1640

JT3-1

1

3

12-30

50-125

<10

3-6

≥0.05

7.5-15

5.5

2745×2000×3030

3085

JT4-2

2

4

25-57

<25

4-8

8-20

7.5

4240×1990×2750

3098

big feed size jigeer

JT4-2A

2

4

25-57

<25

4-8

8-20

4×2

4240×1990×2750

3500

big feed size jigger


JT5-2

2

4.86

12-30

<10

3-6

12-25

7.5

3600×2000×2600

4500
Features of gold jig machine /tin jig machine:
- High capacity
- High concentration ratio and high recovery
- Fabricated with highest quality material
- Easy to install, operate and maintain
- The pulsation curve is saw-tooth wave shape facilitate heavy mineral to settling
- Saving water 30-40% than ordinary jig
- The pulsation speed very easy adjusted by regulator
- Suitable for roughing and desliming
After industrial tests between the sawtooth wave jig machine and the sine wave jig machine, it has been proven that the efficiency of sawtooh jig machine is higher than the sine wave jig machine, the data is shown as below:
sn: 3.01%, w: 5.5%, pb: 1.63%, zn: 2.04%
And the water consuption is reduced by 30-40%, and the stroke of sawtooth jig machine is adjustable by adjusting the speed of the motor.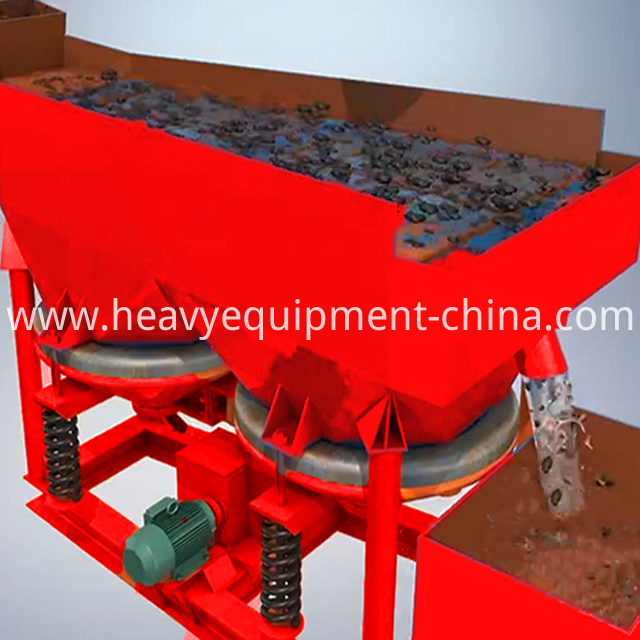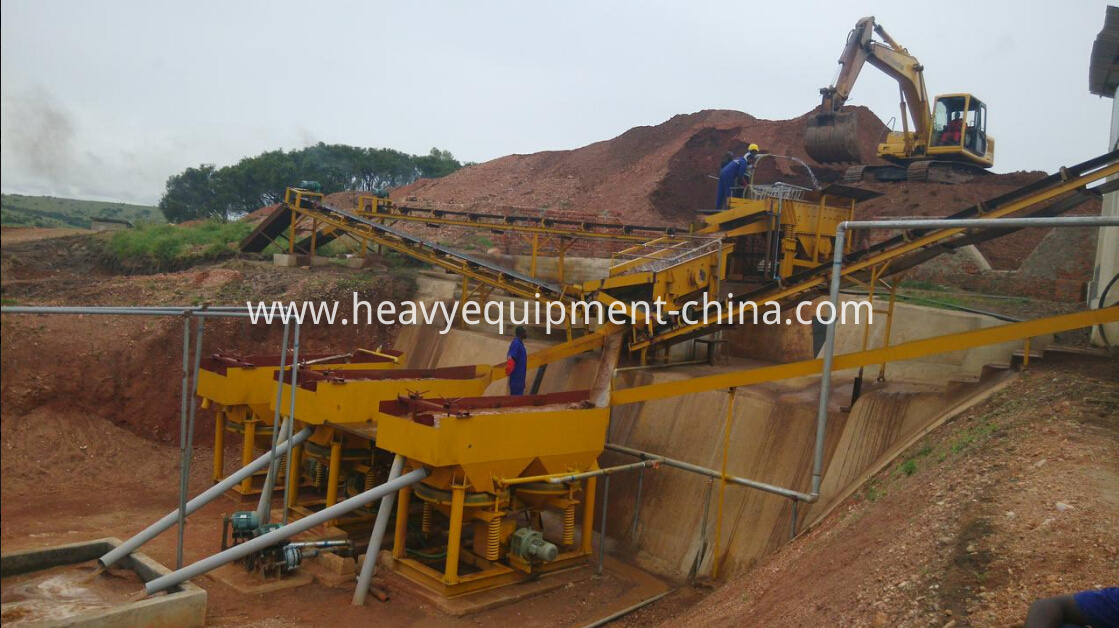 Looking for ideal Gold Jig Machine Manufacturer & supplier ? We have a wide selection at great prices to help you get creative. All the Tin Jig Machine are quality guaranteed. We are China Origin Factory of Gold Jig For Sale. If you have any question, please feel free to contact us.
Product Categories : Beneficiation Equipment > Mineral Separator