There are different options for mobile coal crusher, as the crusher machine can use any one of the following Crushing Equipment, Jaw Crusher, impact Stone Crusher , hammer crusher, cone crusher and VSI Crusher , according to the required output sizes, choose a suitable crusher machine and then mount it on a trailer with the other auxiliary device. then the mobile coal crusher can be used for the coal crushing purpose. Mingyuan is a mining manufacturer in China, whose crusher machine price is reasonable.
Mobile Coal Crusher is a type of Mining Crushing Equipment which is a combined module that incorporates the Vibrating Feeder and jaw crusher with the trailer, which can be moved from one location to another conveniently. and it can be powered either by electricity or diesel generator set. Mingyuan has mobile impact stone crusher For Sale
Mobile Coal Crusher or Mobile Crushing Plant refers Portable Rock Crusher with portable vibrating screen, which are used as a combined crushing and screening group that crushes and separates the crushed materials into the required sizes. the Mobile Stone Crusher can be divided into primary mobile crushing plant and secondary mobile crushing plant or even tertiary mobile crushing plant, depends on the different materials and feeding sizes, usually it need at least two portable rock crushers as you may know that for a lot of materials it is impossible to crush the materials from the big size to the required with only one crushing step. usually it needs two, and after crushing, the vibrating screen will take out the required sizes out and return the rejected one for recrushing.

Mobile Coal Crusher or mobile crushing plant which may have different configurations, for example, the crusher can be used jaw crusher, impact stone crusher, cone crusher, and so on, when it is used with impact stone crusher then it is generally called mobile impact stone crusher, and it is called mobile cone crusher if the crushing equipment is with cone crusher, and for the mining industry, the stationary mining crushing equipment is prefered. as usually the mining site is a fixed area. Mingyuan can provide both the stationary mining crushing equipment and portable Rock Crusher , and we have mobile coal crusher for sale at the earliest time.

Mobile Coal Crusher or Mobile Crushing Plant is a combining work of Crushing Machine and Screening Machine , trailer and Conveyor, the main feature of the combined stone crusher is that it is not necessary to build concrete foundation for the equipment, and it can be moved to another place conveniently. which can save a lot of transportation cost for the raw materials. according to the feeding size of the materials, the portable rock crusher can be divided into mobile primary stone crusher and mobile secondary stone crusher, and usually the secondary crusher follows the primary stone crusher for crushing the materials into the sizes required. usually the Portable Jaw Crusher is the mobile primary stone crusher, the portable impact stone crusher and the portable cone crusher are the popular seconary portable rock crusher. Mingyuan can provide various types of Mobile Coal Crusher, such as portable jaw crusher, portable impact stone crusher and so on, and we have some portable rock crusher and mobile crushing plant at our earliest delivery. please send your inquiry with your detailed requirements such as which type of material do you want to crush, the max feeding size, the crushing capacity and please list each sizes you want after crushing.

As we know that the jaw crusher usually works as the primary crusher, so the portable jaw crusher plant can be widely used in different fields, such as sand and aggregate production plant, coal crushing plant, construction waste recycling plant, concrete mixing plant, mineral Beneficiation Plant, cement production plant, quicklime manufacturing plant, construction materials production plant and so on.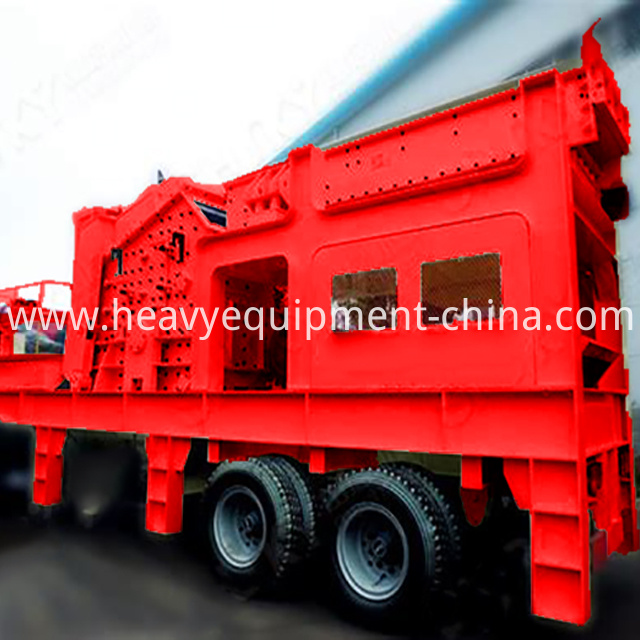 Structure of Mobile Coal Crusher /Mobile Coal Crushing Plant /Mobile Coal Crusher Plant
From the above introduction we can find that the main components of a complete jaw crusher are vibrating feeder, jaw crusher, trailer and belt conveyor. the vibrating feeder feeds the materials into the jaw crusher with rated amount continuously, then discharges to the belt conveyor and transports the materials to next process or to a designed distance.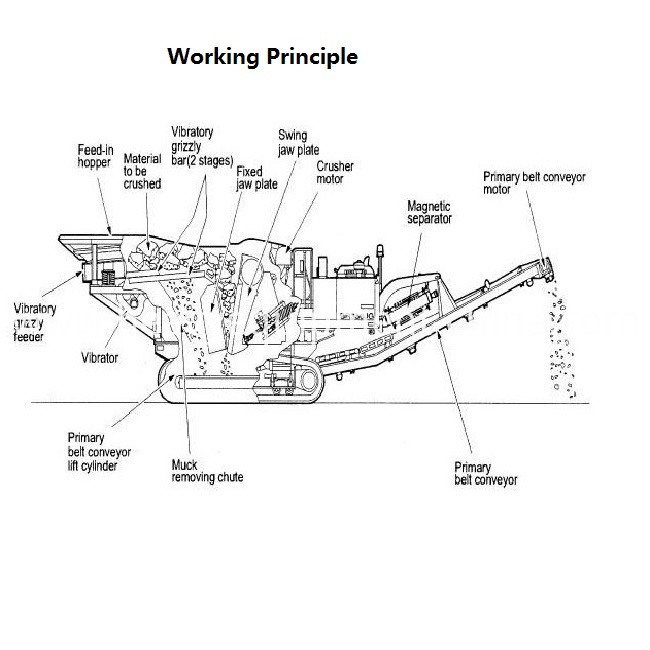 Highlights of Mobile Coal Crusher
1. V-shaped structure crushing cavity is able to meet a big feeding.
2. Movable jaw assembly adopts a high-quality steel casting and heavy eccentric shaft has also adopted forging billet for processing.
3. Use of finite element analysis technology helps to reach both light weight and high reliability.
4. Equipped with wedge adjustment devices, enable to realize automatic control and stepless adjustment.
5. Suitable for various kinds of materials with good working performance.
6. Can be powered either by motor or diesel generator.
7. Easy to move and maintain
8.Less wear parts, which make the Mobile Jaw Crusher plant a cost effective crushing machine.
Technical Parameter of Mobile Coal Crusher /Mobile Coal Crushing Plant
Model

Vibrating Feeder

Jaw Crusher

Belt Conveyor

Extended Belt Conveyor

Capacity (t/h)

Power (kw)

Overall DimensionL×W×H(mm)

Weight(t)

YG938E69

GZD960×

3800

PE600×900

B650×7M

Optional

70-150

91.5

13200×2900×4700

42

YG1142E710

GZD1100×

4200

PE750×1060

B800×7M

Optional

90-200

134

15000×3100×5100

55

YG1349E912

GZD1300×

4900

PE900×1200

B1000×7M

Optional

150-300

146

17000×3300×5600

72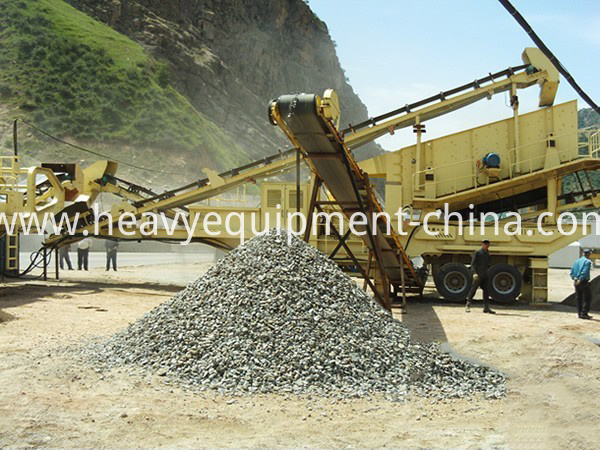 The application of Mobile Coal Crusher /Mobile Coal Crushing Plant
1. Various kinds of stone crushing, such as limestone, granite, diabase, basalt, andesite, Coal, river stone, bauxite for sand and gravel making production
2. Various kinds of mines such as chromite ore, Iron ore, Gold ore, Lead Zinc ore, Nickel ore and so on,
3. Used in some chemical production plant, such as for the Oil Proppant production plant to crush the raw materials.
4. Used in the cement production plant to crush the limestone, and cement clinker.
5. Used in the concrete mixing station for aggregate production purpose
6. Used for construction waste recycling, which is commonly called mobile construction waste crusher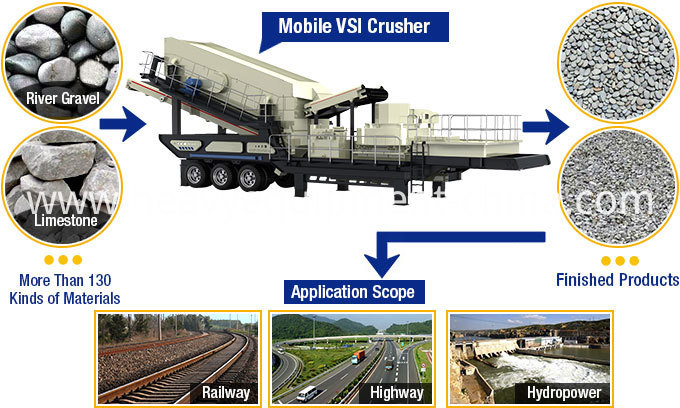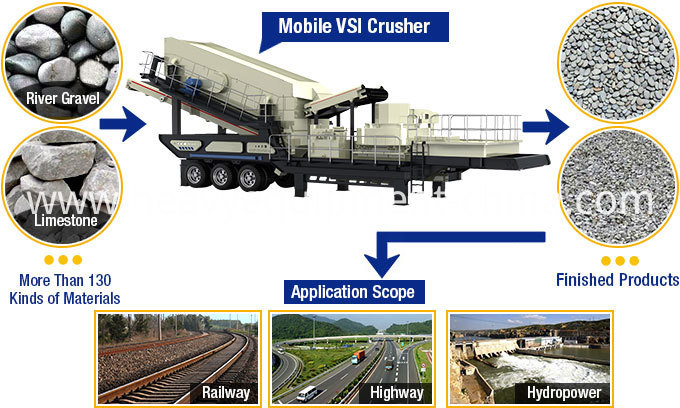 Impact Stone crusher parameter for mobile coal crusher /Crushing Machine Price
Model

Size of feed opening

Max. feed size

Capacity

Power

(KW)

Weight

Dimension
(L*W*H)

(mm × mm)

(mm)

(t/h)

(t)

(mm)

PF-1007

820×700

300

24-45

55

9.5

2400×1558×2660

PF-1010

1170×720

350

50-80

75

10

2500×2000×2570

PF-1210

1090×465

350

80-130

110

14

2638×2053×2810

PF-1214

1440×465

350

100-160

132

18

2580×2400×2810

PF-1315

1532X560

350

140-200

200

19.3

3007X2748X2556

PF-1316

1690X859

350

150-220

200

19.5

3096X2850X2667

PF-1320

2030x800

325

280-320

400

29.7

3280x3200*2613

PF-1515

1580x850

350

220-280

315

28.3

3550*2835*3217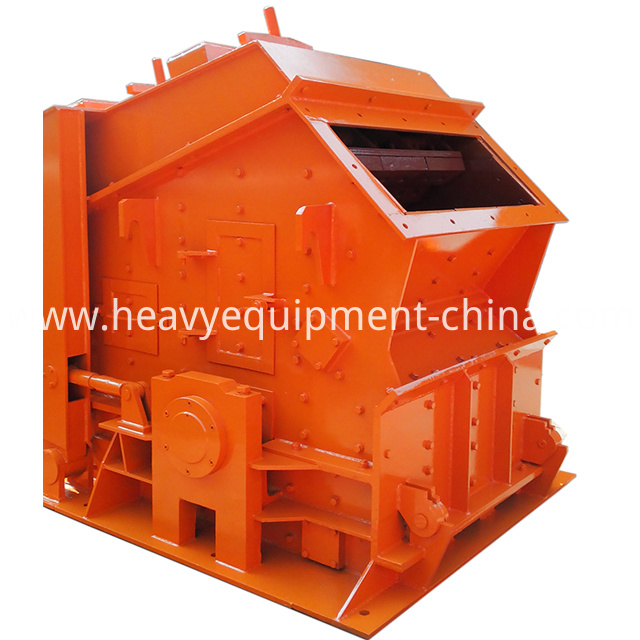 Looking for ideal Mobile Coal Crusher Manufacturer & supplier ? We have a wide selection at great prices to help you get creative. All the Crusher Machine Price are quality guaranteed. We are China Origin Factory of Impact Stone Crusher. If you have any question, please feel free to contact us.
Product Categories : Mobile Stone Crusher > Mobile Impact Crusher