Introduction of Quarry Construction Impact Crusher For Rock Stone
Component part of Quarry Construction Impact Crusher For Rock Stone: The main components of the impact crusher are spring, railing, front counterattack frame, rear counterattack frame, counterattack lining plate, square steel, counterattack lining bolt, capping device, spindle, plate hammer, rotor frame, lining plate, locking block, compression block, etc.
Impact Plate: The shape of plate hammer is closely related to fastening mode and working load. The design of plate hammer should meet the requirements of reliable operation, easy loading and unloading and improving the utilization ratio of metal for plate hammer. Plate hammers are generally made of high chromium cast iron, high manganese steel and other wear-resistant alloy steels. There are many shapes of plate hammer, such as long strip, T-shaped, S-shaped, I-shaped, axe-shaped and slotted shape, generally long strip.
Compacting block: This part is widely used in all kinds of mining machinery, excellent material, stable performance, can be made according to different requirements. After the commissioning of the load test, the necessary adjustment should be made to the pressing block. The compacting block is characterized by stable chemical composition, reasonable heat treatment process, good wear resistance and high strength. The mechanism adopts cylinder driving, connecting rod mechanism and linear guide rail to realize the sequential actions of clamping, feeding, clamping at the other end, releasing and returning at the same time. The whole process is controlled by pneumatic control, which is accurate and reliable, and meets the requirements.

Impact crusher is a new type of high-efficiency Crushing Equipment. Its characteristics are: small volume, simple structure, high crushing ratio, less energy consumption, large production capacity, uniform product size, and selective crushing effect. It is a promising equipment. The major disadvantage of counter-impact crusher is that the hammer and counterattack plate are particularly easy to crush. Wear, especially for broken hard ores, is more serious and requires frequent replacement. At present, some wear resistant materials have been applied in some metal concentrators.
Impact crusher is also called fine Stone Crusher . Quarry Construction Impact Crusher For Rock Stone is mainly used for material processing of metallurgy, chemical industry, building materials, hydropower and other materials which often need to be relocated. It is especially used for the operation of mobile stone materials such as expressway, railway and Hydropower projects. Impact Crusher For Stone Breaking With Competitive Price can adopt various configurations according to the types of raw materials, the size and the requirements of finished materials.
The Quarry Construction Impact Crusher For Rock Stone can deal with materials with side length less than 100-500 mm, with a maximum compressive strength of 350 MPa, with a large crushing ratio, the broken materials are cubic particles and so on. Widely used in building materials, ore crushing, railways, expressways, energy, transportation, energy, cement, mining, chemical and other industries for fine and medium-sized materials. The size of the discharging granularity can be adjusted, and the crushing specification is diversified.
Working Principle of Quarry Construction Impact Crusher For Rock Stone
The block is fed from the inlet, and a chain curtain is arranged in the direction of the feed inlet in order to prevent the block from flying out when it is broken. The feeding block falls on the top of the grate screen, the fine block falls on the lower part of the casing through the grate gap, and the bulk material slides along the screen surface to the rotor.
A plate hammer with a certain height is fixed on the circumference of the rotor, and the rotor is rotated at high speed by a motor driven by a V-belt. The material falling on the rotor is impacted by a high-speed rotating plate hammer. After obtaining the kinetic energy, it impacts the counterattack plate at a high speed. Then it bounces back from the counterattack plate and collides with the material thrown out by the rotor in the broken area.
The space composed of strip sieve, rotor, counterattack plate and chain curtain is called impact zone, and the space between counterattack plate and rotor is the second impact zone. Material in the impact zone is impacted by each other and broken, and then into the second impact zone by another impact crushing. The broken material is discharged through the discharge port at the lower part of the casing.
The main components of the impact crusher are the counterattack plate and the plate hammer. One end of the counterattack board is suspended on the shell by a live chain, and the other end is fixed by adjusting bolts. When large pieces of material or refractory objects are clamped in the gap between the rotor and the counterattack plate, the counterattack plate is subjected to greater pressure and the counterattack backlash moves, the gap increases, so that refractory objects can pass through, without causing rotor damage. Then the counterattack plate restored its original position under the action of self-weight, which was used as the protection device of the counterattack crusher.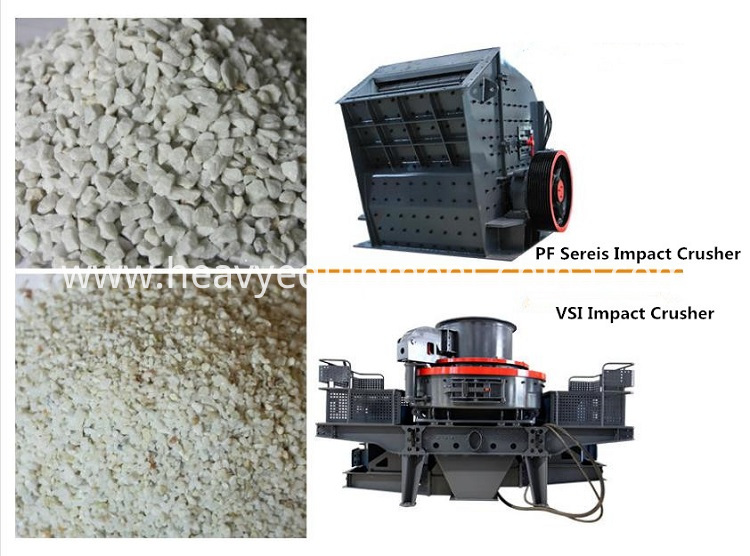 Specification of Impact Crusher For Quarry Construction Impact Crusher For Rock Stone
Model

Size of feed opening

Max. feed size

Capacity

Power (KW)

Weight

Dimension
(L*W*H)

(mm × mm)

(mm)

(t/h)

(t)

(mm)

PF-1007

820×700

300

24-45

55

9.5

2400×1558×2660

PF-1010

1170×720

350

50-80

75

10

2500×2000×2570

PF-1210

1090×465

350

80-130

110

14

2638×2053×2810

PF-1214

1440×465

350

100-160

132

18

2580×2400×2810

PF-1315

1532X560

350

140-200

200

19.3

3007X2748X2556

PF-1316

1690X859

350

150-220

200

19.5

3096X2850X2667

PF-1320

2030x800

325

280-320

400

29.7

3280x3200*2613

PF-1515

1580x850

350

220-280

315

28.3

3550*2835*3217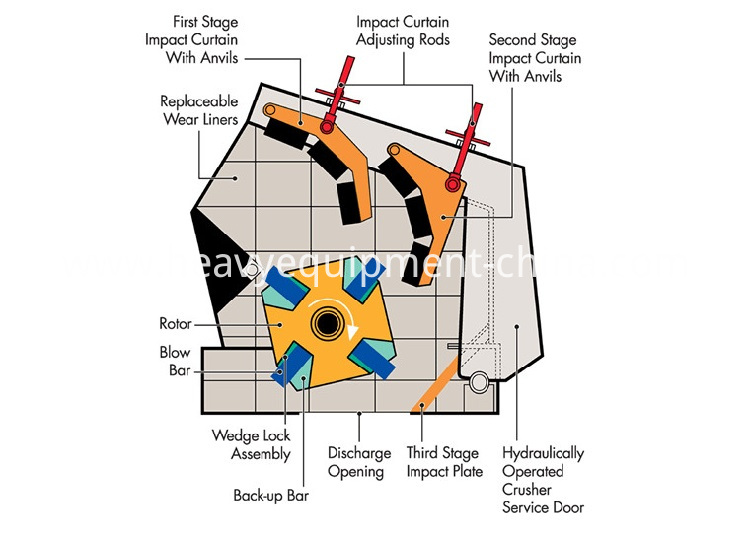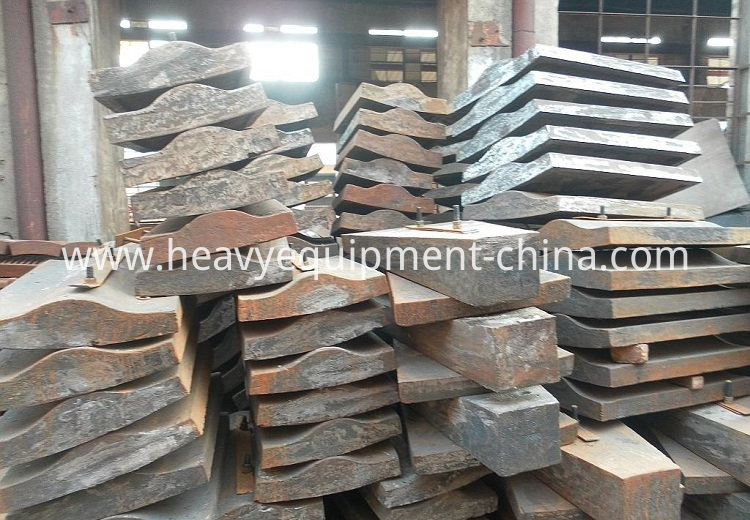 Performance characteristics of Impact Crusher For Quarry Construction Impact Crusher For Rock Stone:
Advanced technology, optimized design
The manufacturing process is made of high-end materials. Heavy duty rotor design, strict testing and analysis technology ensure high quality rotor. The crushing ratio can reach 40, which simplifies the crushing process and reduces the production cost.
Higher intensity:
Using finite element analysis technology, the integral cast steel bearing seat ensures complete coordination with the frame, greatly enhancing the radial strength of the bearing seat, so that the equipment has higher strength.
Unique structure, stable and reliable: The bearing block adopts integral cast steel structure, which is more stable and safe. The larger bearing specifications, the higher carrying capacity. The unique plate hammer fixing device has higher reliability. Crushing function is complete, productivity is high, comprehensive benefit is high.
Selective fragmentation:
It has selective crushing effect, and the granularity of the crushed product is more uniform, and the shape is mostly cubic stones. It is widely applied to bridge construction, high speed road construction, wharf and airport construction.
Company Information
Henan Mingyuan Heavy Industry Machinery Co., LTD is one high-tech enterprise, which involves R&D, manufacturering, sales and service as well. In the past 20 years, we devote ourselves to producing mining equipments such as Quarry Construction Impact Crusher For Rock Stone, Jaw Crusher, fine crusher, impact crusher hammer mill crusher, vsi sand maker, cone crusher, Sand Washing Machine ( both wheel type and spiral), Rotary Dryer, Ball Mill, Rotary Kiln , Cement Ball Mill, Magnetic Separator, belt Conveyor, shaking table, spiral chute, and so on.
In recently years, we have developped our business in new areas, such as grain dryer, waste material recycling plant for waste tyre, rubber, bottle, and so on. for all equipment we provide we can send our experienced engineer to your workshop to guide the installtion until the whole plant works normally.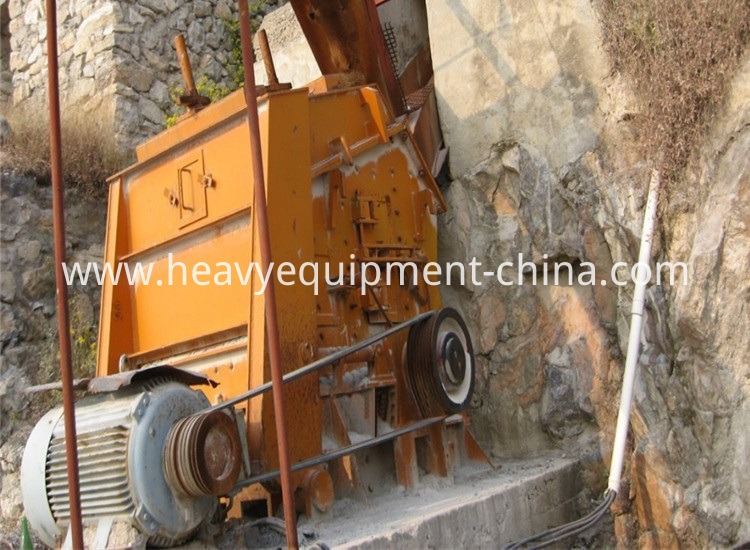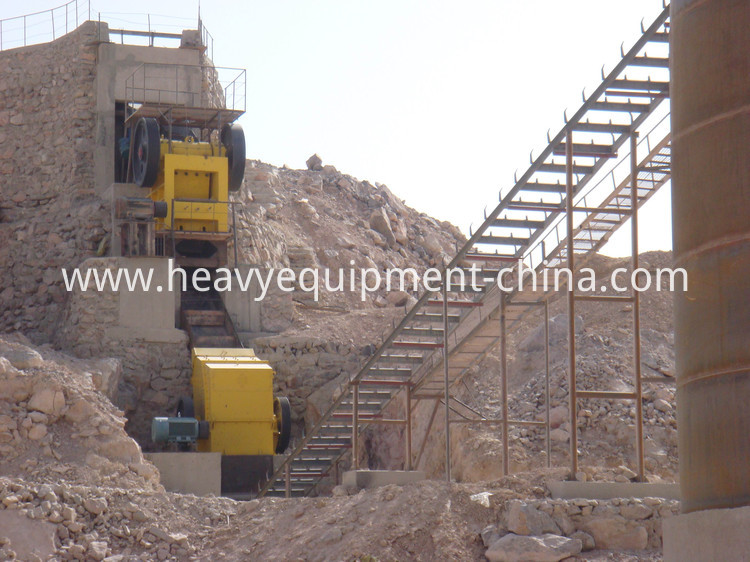 Looking for ideal Impact Crusher For Rock Stone Manufacturer & supplier ? We have a wide selection at great prices to help you get creative. All the Quarry Construction Impact Crusher are quality guaranteed. We are China Origin Factory of Quarry Impact Crusher. If you have any question, please feel free to contact us.
Product Categories : Mobile Stone Crusher > Mobile Impact Crusher