General Introduction about Chicken Manure Drum Dryer /Chicken Manure Rotary Dryer /Drum Dryer For Chicken Manure
For Chicken manure drying process, our factory can provide high efficient solid liquid separating device, which can take most of the liquid before entering to the Rotary Drum Dryer , in it can save a lot of energy and operating cost. after drying process, the chicken manure can be easily for transportation and used for fertilizer production plant, the rotary drum dryer is the main equipment for chicken manure drying purpose. so it can also be named as Chicken Manure Drum Dryer, Chicken Manure Rotary Dryer, Drum Dryer For Chicken, and so on. Our factory can provide the complete chicken manure drying plant, which may includes the liquid solid separating device, chicken manure rotary dryer, Dust Collector, and some auxiliary equipment.
For the compound fertilizer production line, the raw materials are mainly come poultry manures, such as cow dung, pig dung and chicken manure, but usually the water content in these materials are higher than required, so it needs to dry for further usage, the rotary drum dryer is the most commonly used drying equipment for reducing the water content. so the rotary dryer can be called Chicken Manure Dryer, Pig Dung Dryer, Cow dung dryer, and can even be called as fertilizer drum dryer.
As the application of the rotary drum dryer is wide, which can be used to dry a lot of materials, so there are some different names according to the material, for example,there are rotary sawdust dryer, fertilzier dryer machine, sand rotary dryer, biomass rotary dryer, chicken manure dryer, coal slime drying machine, Pig dung dryer and so on. however there are
mainly two different structures for the biomass rotary dryer, one is single pass rotary dryer, and the other is three pass rotary dryer, Mingyuan can provide both of the them for different projects.
rotary drum dryer, which can be divided into small Chicken manure dryer, medium drying machine, and large capacity chicken manure drying system, Sawdust Drum Systems has the advantages of large capacity, wide application ranges, small flow resistance, large operation ranges, convenient operation, etc. It is commonly used for drying sand, slag, sludge, coal slime, limestone, quartz stone, granular material, powder material, paste material, compound fertilizer, chicken manure and cow dung. in stock there is chicken manure dryer.
Our company can provide both single pass rotary drum dryer and triple pass rotary dryer machine, both of them can be used as pig dung dryer, with fuel options
as coal, wood, LPG, diesel, electricity, and so on. According to the heat transfer between the drying medium and wet materials, small chieken manure dryer can be divided into direct heat transfer chicken manure dryer(the direct contact and heat transfer between drying medium and wet materials) and indirect heat transfer rotary drum dryer (the heat required by the drying process is indirectly passed to the wet materials by the cylinder wall). Indirect heat transfer rotary chicken manure dryer is rarely used due to its low transmission efficiency and complex structure, for some materials which is easy to get burned needs to use indirect drying method. The chicken manure drying systems is not limited to chicken manure, it can also be used to dry wood chips, coal, NPK, etc.Mingyuan can provide different specifications of coal dung dryer.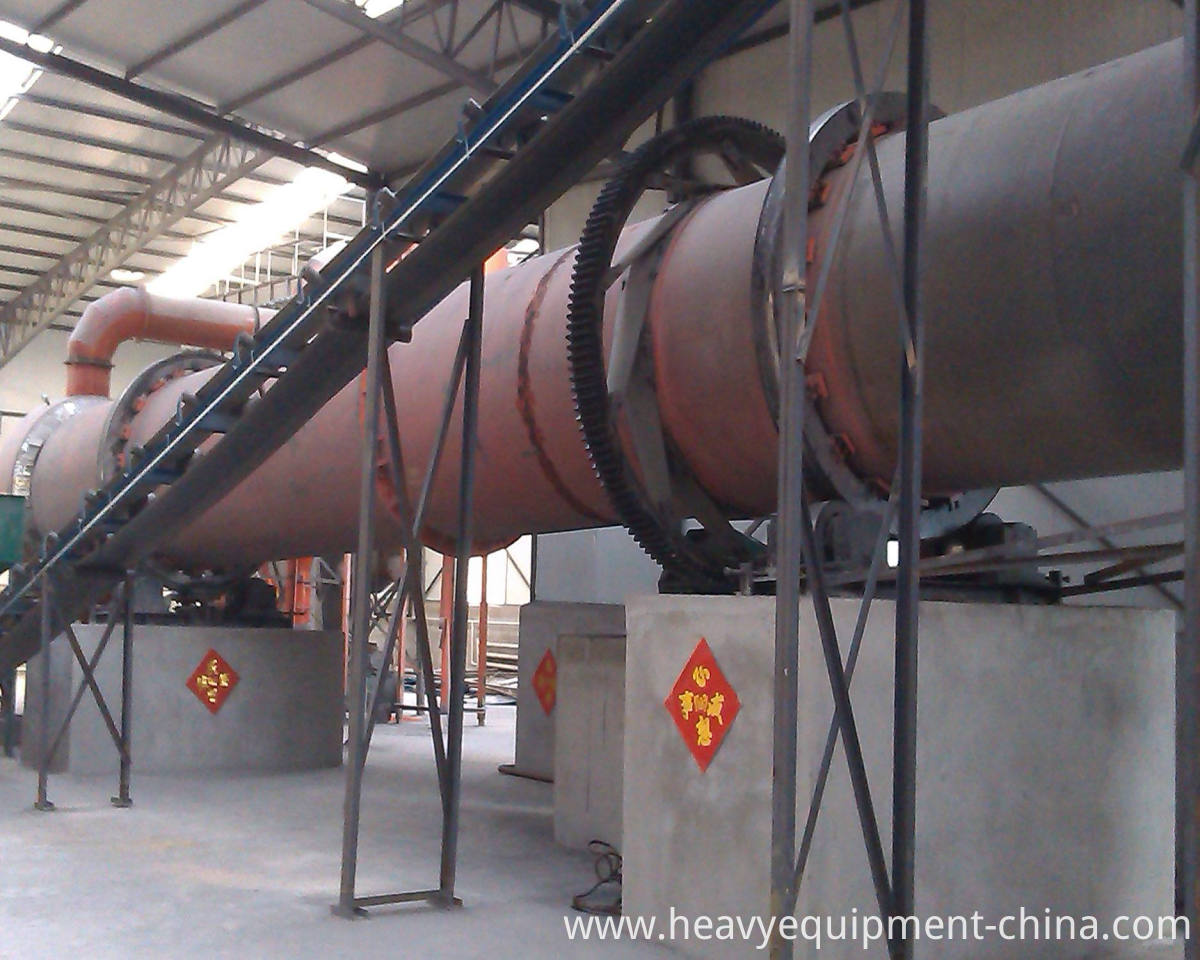 Working Principle of

Chicken Manure Drum Dryer /Chicken Manure Rotary Dryer /Drum Dryer For Chicken Manure

The wet materials are transported into the feeding hopper of the rotary sawdust dryer via belt Conveyor or bucket conveyor, and the feeding end of the single drum dryer is higher than the discharge end, so once the mateiral is charged in the dryer, it will flow towards to the discharge end with the rotation of the rotary sawdust dryer, after heat exchange, the moisture of the processed material will be reduced. finally discharged from the sawdust drying systems and transported to the finished product yard. the principle is same for the fertilizer dryer machine and biomass rotary dryer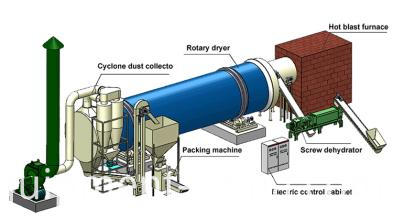 Along with the revolving of cylinder, the materials move to the lower terminal due to the gravity. When the wet materials move forward, it receives the heat from the heat carrier directly or indirectly. As a result, the wet materials are dried, and discharged out by belt conveyor or Screw Conveyor on the outlet. There is lifting plate inside the cylinder in order to shovel materials up and cast it out, to increase the connection surface, to promote drying efficiency, and accelerate the forward movement of materials. Generally, the heat carrier can be hot air and chimney flue. we have different capacities of rotary sawdust dryer for sale.

After the heat carrier is dried, the materials mingled with air should be collected with Cyclone Dust Collector. If there is need to reduce the content of dust mixed with tail gas, the heat carrier should be subject to bag dust collector or wet dust collector before it is discharged.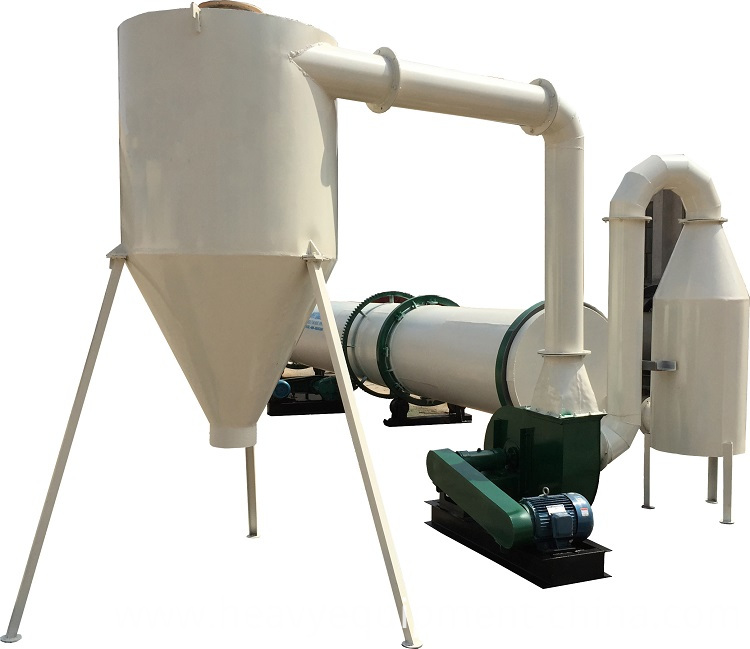 Features of

Chicken Manure Drum Dryer /Chicken Manure Rotary Dryer /Drum Dryer For Chicken Manure


1.High heat efficiency. The principle of heat transfer of the cylinder dryer is heat conduction and the conducting direction keeps identical in the whole operation circle. Except heat loss of end cover and radiation loss, all heat can be used for evaporation of wet materials on the wall the cylinder. The efficiency can reach 70-80%.

2.Large operation elasticity and wide application. Various drying factors of the dryer can be adjusted, such as concentration of feeding liquid/thickness of material film, temperature of heating medium, rotating speed of the drum etc. which can change drying speed of the under dryer. As these factors have no interrelations each other, it brings great convenience to dry operation and makes it applicable to dry various materials and to meet different requirements of production.

3.Short drying period. The drying period of materials is normally 10 to 300 seconds, so it is suitable for heat-sensitive materials. It also can be pressure reducing operated if it is put in vacuum vessel.
Specification of

Chicken Manure Drum Dryer /Chicken Manure Rotary Dryer /Drum Dryer For Chicken Manure


| | | | | | | |
| --- | --- | --- | --- | --- | --- | --- |
| model | drum speed (r/min) | feed water (%) | the moisture content (%) | capacity (t/h) | power (kw) | weight (t) |
| 1500*3000 | 2-7.5 | 10-25 | ≤1 | 5-8 | 2.2*2 | 8 |
| 1800*4000 | 2-7.5 | 10-25 | ≤1 | 10-15 | 3*2 | 13 |
| 2000*4500 | 2-7.5 | 10-25 | ≤1 | 15-20 | 4*2 | 15.8 |
| 2000*6000 | 2-7.5 | 10-25 | ≤1 | 15-22 | 5.5*2 | 20 |
| 2200*4500 | 2-7.5 | 10-25 | ≤1 | 18-25 | 5.5*2 | 18 |
| 2200*6000 | 2-7.5 | 10-25 | ≤1 | 20-30 | 7.5*2 | 22 |
| 2500*6500 | 2-7.5 | 10-25 | ≤1 | 25-32 | 11*2 | 27 |
| 2700*7000 | 2-7.5 | 10-25 | ≤1 | 25-35 | 7.5*4 | 30 |
| 3000*7000 | 2-7.5 | 10-25 | ≤1 | 30-40 | 7.5*4 | 33 |
| 3200*7000 | 2-7.5 | 10-25 | ≤1 | 40-50 | 11*4 | 36 |
| 3600*8000 | 2-7.5 | 10-25 | ≤1 | 50-70 | 15*4 | 50 |
| 4200*8500 | 2-7.5 | 10-25 | ≤1 | 70-90 | 18.5*4 | 70 |
Company Information
Henan Mingyuan Heavy Industry Equipment Co., LTD is one high-tech enterprise, which involves R&D, manufacturering, sales and service as well. In the past 20 years, we devote ourselves to producing mining equipments such as Sawdust Drum Dryer, Jaw Crusher, fine crusher, Impact Crusher hammer mill crusher, vsi sand maker, cone crusher, Sand Washing Machine ( both wheel type and spiral), cow dung dryer, chicken manure dryer, pig dung, Ball Mill, Rotary Kiln , Cement Ball Mill, Magnetic Separator, belt conveyor, shaking table, spiral chute, and so on.
In recently years, we have developped our business in new areas, such as grain dryer, waste material recycling plant for waste tyre, rubber, bottle, and so on. for all equipment we provide we can send our experienced engineer to your workshop to guide the installtion until the whole plant works normally.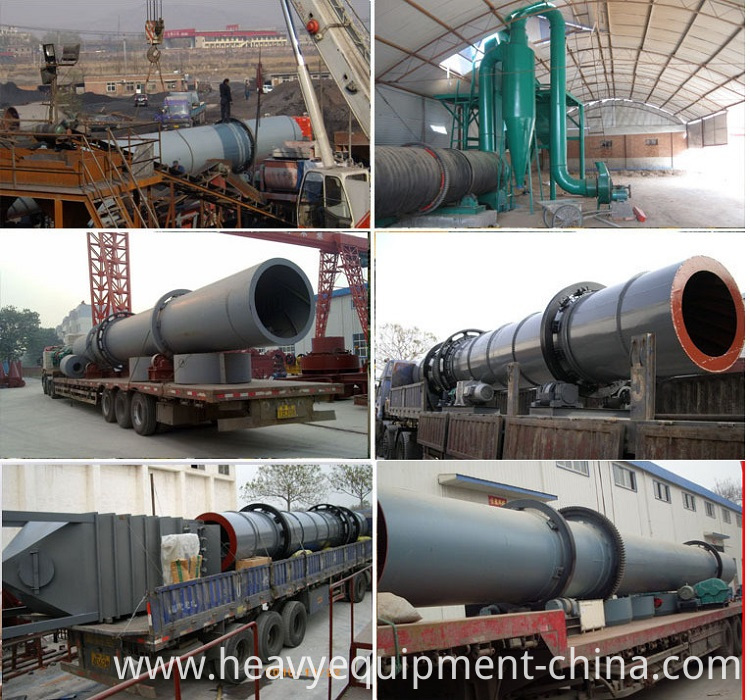 Our Service of

Chicken Manure Drum Dryer /Chicken Manure Rotary Dryer /Drum Dryer For Chicken Manure

According to customers' demand, we supply the services in a flexible way not only the traditional services but also the internet online services. Our engineer is 24 hours online. We try our best to carve out maket and provide services all the time. Before customers purchase, we will send our engineers to customers site to design the best flow chart. After purchase, we will send the engineer to guide to install the machine, take trial run. Try our best to provide our customers with service of high quality and efficiency. We welcome customers from home and abroad to visit our company and carry put cooperation!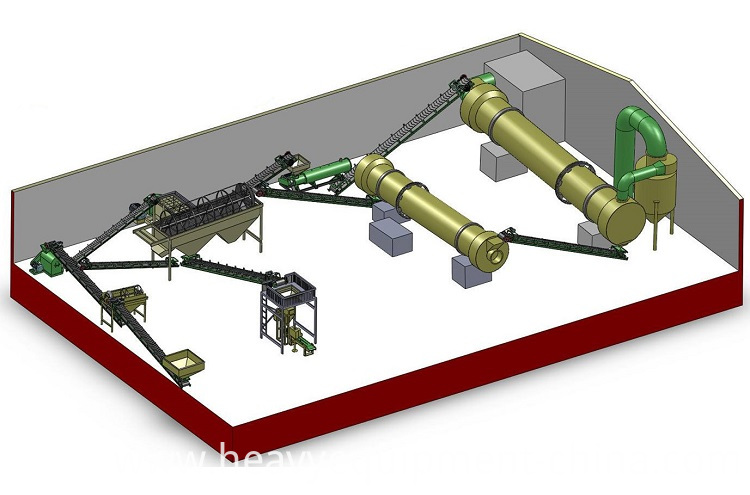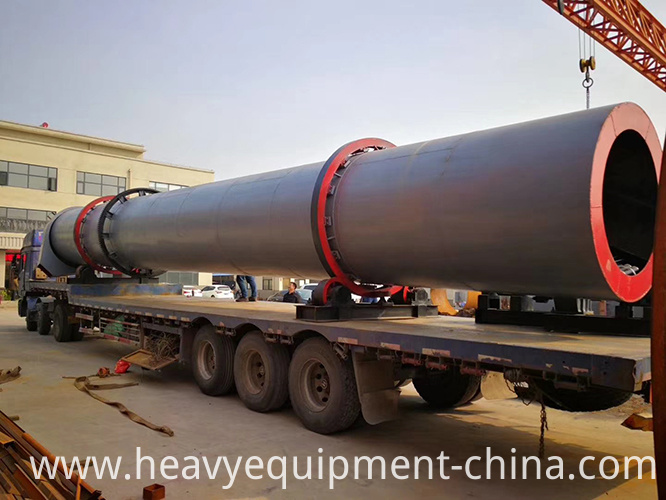 Looking for ideal Chicken Manure Drum Dryer Manufacturer & supplier ? We have a wide selection at great prices to help you get creative. All the Drum Dryer For Chicken Manure are quality guaranteed. We are China Origin Factory of Chicken Manure Rotary Dryer. If you have any question, please feel free to contact us.
Product Categories : Beneficiation Equipment > Rotary Dryer