Stone Washing Plant is a simple sand washing process with Sand Washing Machine, it can be Spiral Washing Machine or Wheel type sand washing machine, and a complete Stone Washing Plant mainly inlcudes the Stone Washing Machine, waste water recycling device, and belt Conveyor. and the quantity of the sand washing machine needs to be two sets if the clay content is high, then the clay can be thoroughly removed from the stone, Mingyuan can provide complete Stone Washing Plant, and as we are a direct manufacturer, the Stone Washing Machine Price is quite competitive.

Spiral Washing Machine or Sand Washing Machine is used in Sand Washing System, which remove the impurties from the sand, usually the clay,
the complete Stone Washing Plant generally includes sand washing machine, fine sand recycling device, waste water recycling device, dewatering device and drying equipment.
generally sepaking there are two different aggregate washing equipment which can be used for the sand and gravel washing, one is the wheel type aggregate washing equipment and the other is the spiral aggregate washing equipment, Mingyuan can produce both of the spiral washing machine and wheel type sand washing machine, as we are a direct manufacturer, so the Stone Washing Machine Price is good.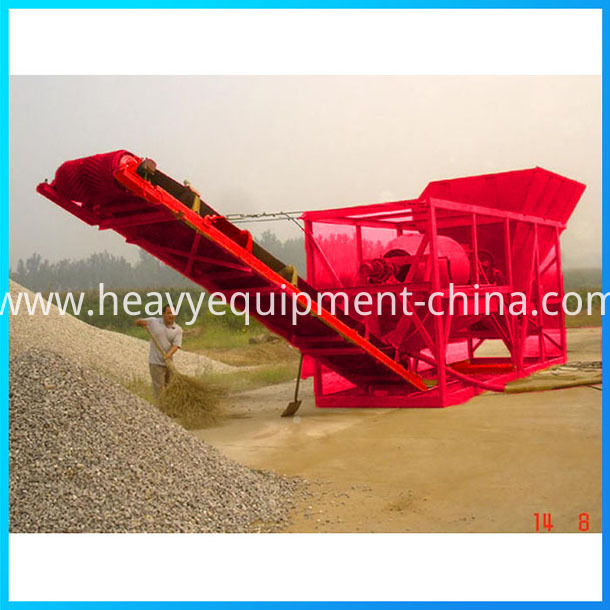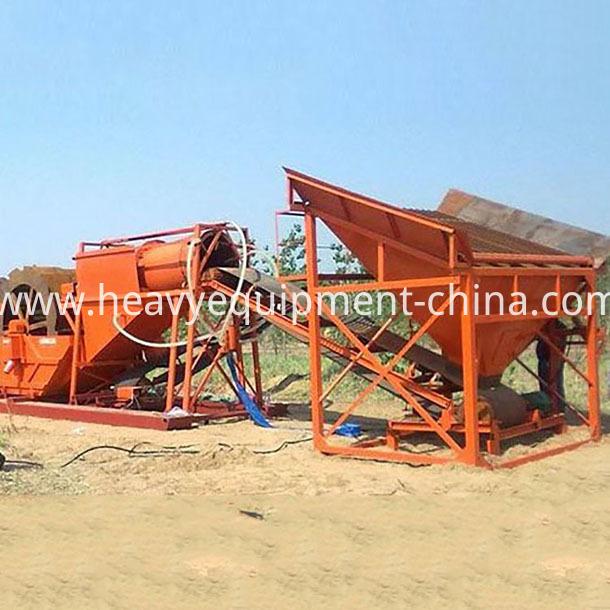 Sand Washing Unit is a mineral washing device that reduce the dust content in the sand, there are mainly three types, first is spiral sand washer, second is wheel type sand washing unit, and third is Screening Machine with water flushing, and there are two types of screening machine, vibrating screen and rotary trommel screen, both of these two types can also be used for gravel wash plant, it's commonly used in quarry stone crushing and washing plant, Mingyuan can provide different specifications of aggregate washing eqiupment based on clients' requirements, and as we are a direct manufacturer, so our sand washing unit price is good and we have different specifications of sand washing unit for the Stone Washing Plant.
Sand Washing Unit or sand washer mainly refers the dust cleaning process, it can includes one to three sand washing units depends on the content of the dust, and sometimes the spiral sand washer and wheel sand washer is placed in line, sometimes two spiral sand washers is placed in line, and it is commonly seen two wheel Sand Washing Unit is placed in line, all of these configurations aims to reduce the dust as low as possible, and the waste water is necessary to recycle to reduce the operation cost, so it also needs to add a thickener. and a fine sand recover machine is also used to reduce the fine sand loss during the washing. Mingyuan as a manufacturer has both wheel type Sand Washing Unit and spiral sand washer for sale. welcome to enquiry.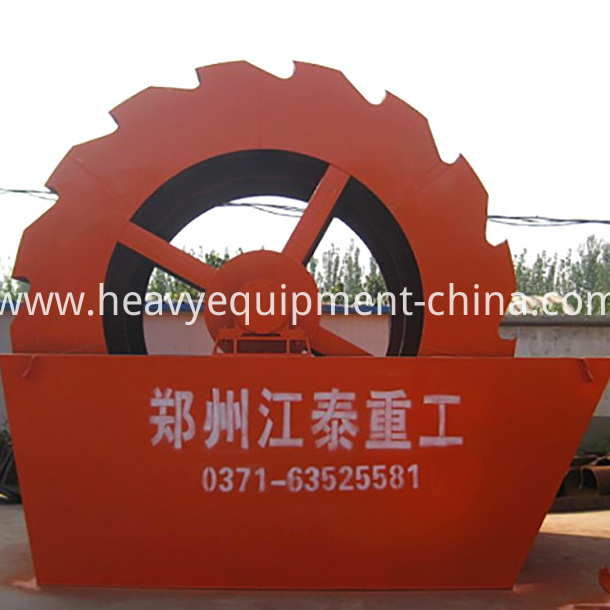 Stone processing plant refers two processes, one is stone crushing and screening process, the other is washing and drying process, the first one is used to crush stone into small sand, and the later one is used to remove the impurities mixed in the silica sand, such as clay and iron, the first process mainly includes primary crusher, vsi sand maker, vibrating screen, while the second process mainly consists of Sand Washing Unit, fine sand recycling device, Rotary Dryer, and belt conveyor. as for the stone washing machine, there are two types available, spiral type Sand Washing Unit and wheel type Sand Washing Unit. our factory can provide the compelte stone processing plant, whatever it's for artificial sand processing plant or Stone Washing Plant. we will provide the suitable solution according to your specific requirements.
Stone Washing Plant is a reletively simple stone cleaning process that removes the clay or dust mixed in the stone or sand, there are mainly two types of stone washing machine, one is spiral type stone washer and the other is wheel-bucket stone washing machine, both can be effectively used for the washing purpose. besides, both of the two stone washing machines have the other two functions, namely, classifying and dehydration, the stone and gravel can meet the construction standards for gravel and river stone, both of them are widely used for construction site, sand and stone manufacturing plant, glass making plant.
How is wheel bucket sand washing unit works
The gravel is fed to the washing tank of stone washer with belt conveyor, with the rotation of the wheel, the stone gravels grinds and makes the impurities separated from the stone gravel, and there is screen sieve on the rotation wheel, the clean stone is separated when the bucket move out of the water tank, then discharges on a belt conveyor and transports to a designed distance.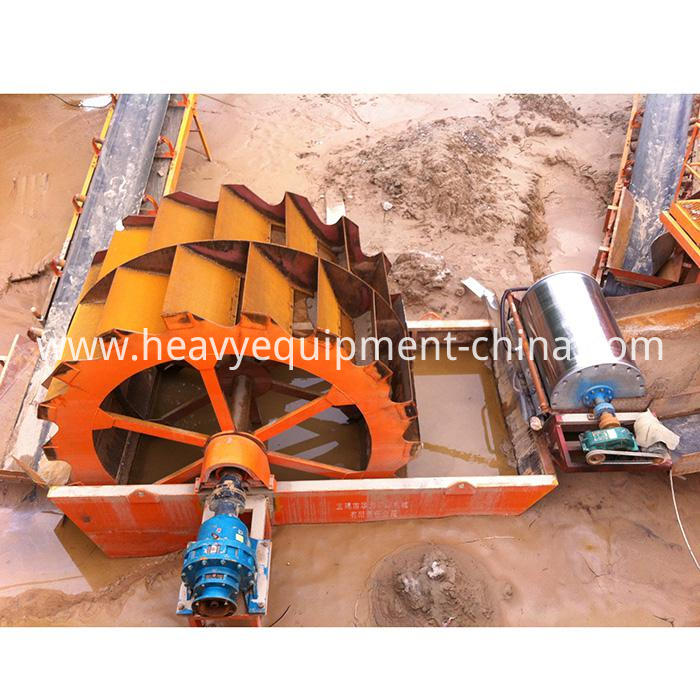 Technical parameters of wheel type Stone Washing Plant/ Stone Washing Machine Price /Spiral Washing Machine
| | | | | |
| --- | --- | --- | --- | --- |
| Model | XSD2610 | XSD2816 | XSD3016 | XSD3620 |
| Spec. of Impeller(mm) | Φ 2600× 1000 | Φ 2800× 1600 | Φ 3000× 1600 | Φ 3600× 2000 |
| Impeller Speed(r/min) | 1.178 | 1.177 | 1.179 | 1.179 |
| Capacity(t/h) | 20-50 | 30-60 | 50-120 | 60-150 |
| Input Size(mm) | ≤ 10 | ≤ 10 | ≤ 10 | ≤ 10 |
| Motor Power(kw) | 7.5 | 11 | 15 | 18.5 |
| Decelerator Model | ZQ50-50-I-Z | ZQ65-50-I-Z | ZQ65-50-I-Z | ZQ65-50-I-Z |
| Overall Dimensionmm (L× W× H) | 3255x1982x2690 | 3540x3000x2880 | 3845x3000x3080 | 4500× 3206× 3480 |
Spiral washing machine, or spiral stone washing machine, screw stone washer, is a dust cleaning device which is used for dust or clay removing that mixed in the stone, sand, or some mines, there are single spiral stone washer and double-spiral stone washing machine, single type is mainly for small capacity processing while the double-spiral type is mainly for big processing capacity, the sprial stone washer can be used for stone washing purpose in construction site, artificial sand processing plant, Stone Washing Plant, coal washing plant, placer gold washing plant, and so on. the impurity can be less than 1% after washing process.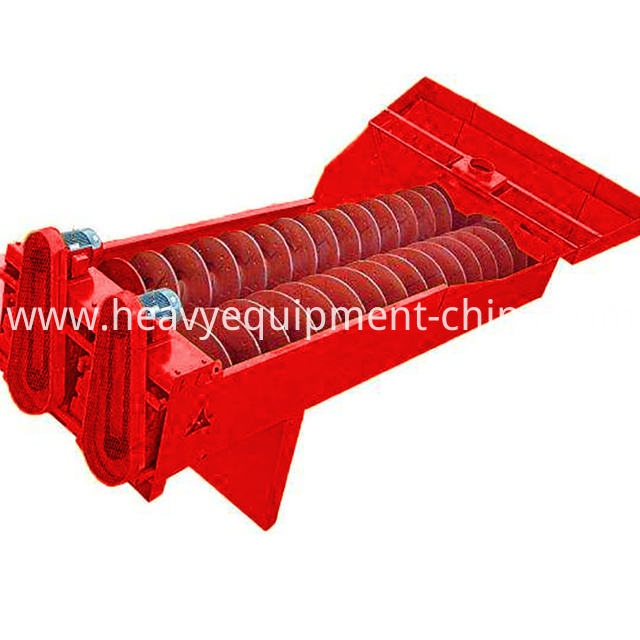 Spiral washing machine, also know as spiral sand washing unit, screw stone washer and screw sand washing unit, which are commonly used in the gravel wash plant, it needs to installed with some inclination, around 15 degree, when the spiral sand washer is working, with the rotating of the screw, on one hand it mix the sand with water and the clay is dissolved in the water, on the other hand, the sand will be transported to the higher end, and there is an outlet at the bottom of the spiral stone washer, where the washed sand is discharged and transported to a designed distance. Mingyuan can provide the complete stone washing plant with suitable specification of the spiral washing machine.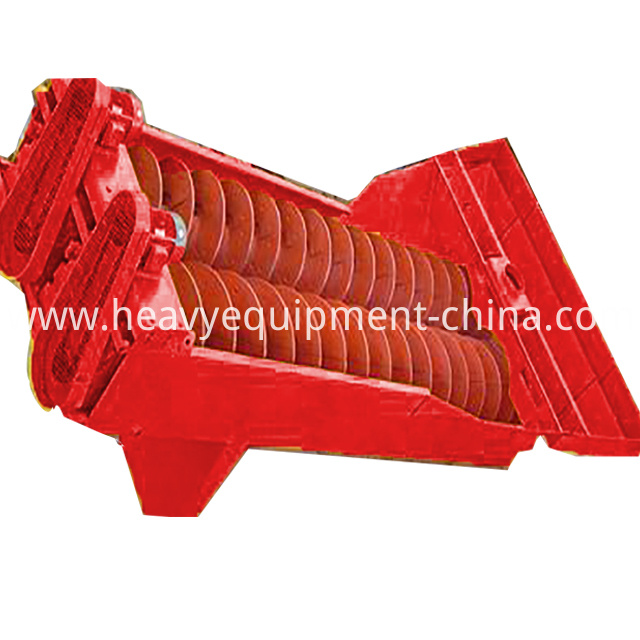 Technical parameters of spiral

Washing Machine/ Stone Washing Plant/Stone Washing Machine Price
Model

XL508

XL610

XL762

XL915

2XL915

XL1115

2XL1115

Screw Diameter(mm)

508

610

762

915

915

1115

1115

Length of Tub(mm)

6705

7225

7620

7585

7585

9782

9782

Max Feed Size(mm)

≤ 10

≤ 10

≤ 10

≤ 10

≤ 10

≤ 10

≤ 10

Capacity
(t/h)

20

40-50

50-75

100

200

175

350

Speed of Screw
(r/min)

38

32

26

21

21

17

17

Motor Power
( kw)

5.5

7.5

11

11

2×11

15

2×15

Water Consumption(t/h)

6-60

6-63

9-63

10-80

20-160

20-150

40-300

Overall Dimensions(mm)
(L×W×H)

8000×2343
×1430

8000×2050
×1400

8545×2650
×3862

8500×2810
×3600

8420×3765
×3960

10970×3945
×4720

10970×5250
×4720

Weight(t)

2.67

3.80

5.23

6.27

11.11

10.18

17.94
Features of spiral Washing Machine/ Stone Washing Plant/Stone Washing Machine Price
1.Heavy duty, long service life and no quick-wear part.
2.High washing, dewatering and classifying efficiency.
3.Economic and strong frame structure.
What do we offer?
1: Stone crushing and screening plant.
2: Sand and gravel washing and drying plant. /spiral washing machine /stone washing plant
3: Ore beneficiaton plant, such as gold ore, zinc ore, graphite, chromite ore, iron ore, cobalt ore, nickel ore, etc.
4: Cement production plant.
5: Lime manufacturing plant.
6: LECA/Oil Proppant production plant.
7: AAC Block Manufacturing Plant.
8:Designing based on client's specific requirements.
9: Equipment production.
10: After sale service, we will send our engineer to the client's factory to guide the installation, commissioning, training, etc. until the whole project runs smoothly.
11: Long-term spare parts supply.
More question about the M Sand Washing Plant, welcome to send us your inquiry to our sales team.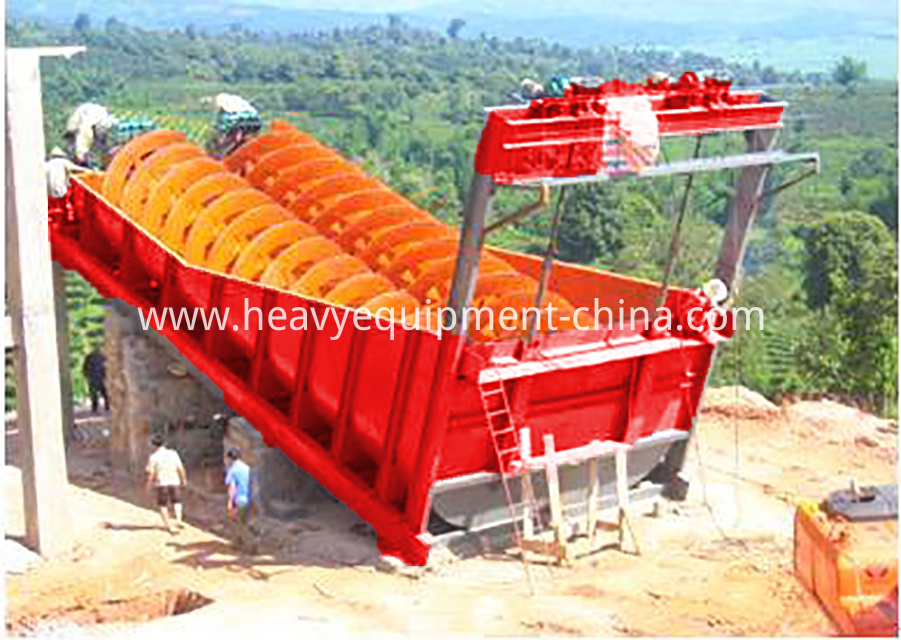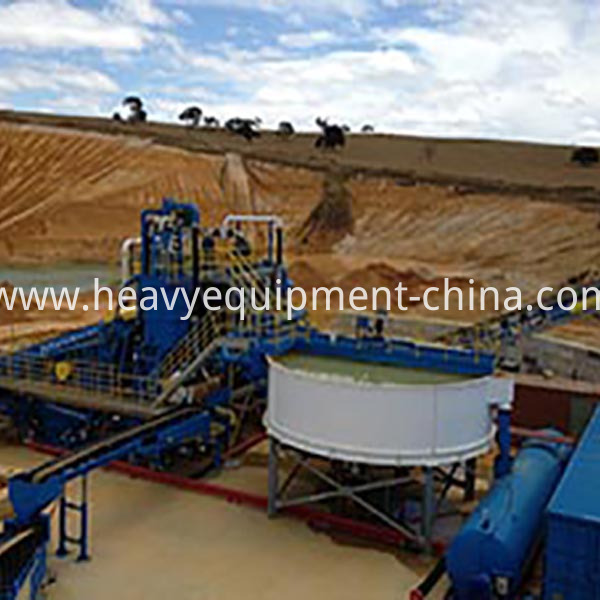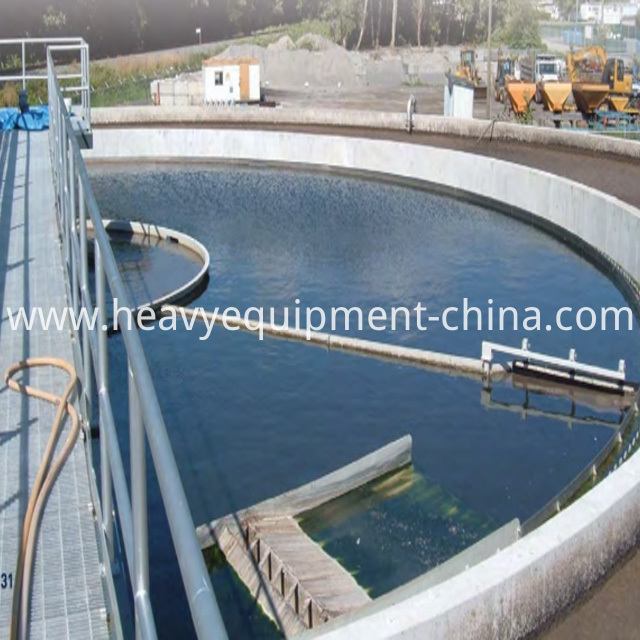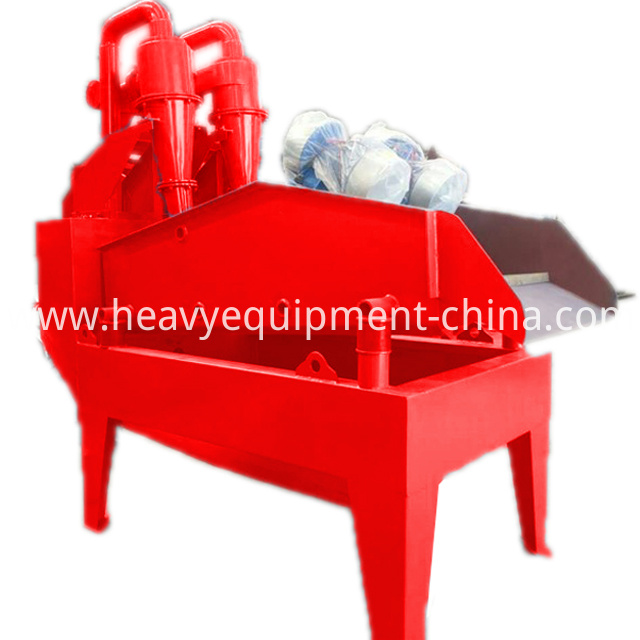 Looking for ideal Spiral Washing Machine Manufacturer & supplier ? We have a wide selection at great prices to help you get creative. All the Stone Washing Plant are quality guaranteed. We are China Origin Factory of Stone Washing Machine Price. If you have any question, please feel free to contact us.
Product Categories : Crushing And Screening Machine > Sand Washing Machine